Rum Connoisseur
Interview of The Week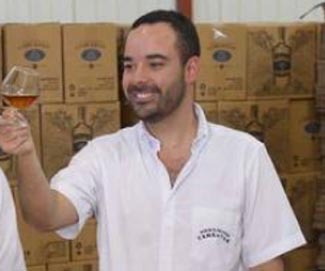 JUAN ALFREDO PACAS
VICE PRESIDENT RON CIHUATÁN
1.    Who is Juan Alfredo Pacas?
I am a seeker of aromas and flavors. My biggest passion is extracting them from nature, evaluating them, and sharing them with people through products they can enjoy. I love using my creativity to develop products that showcase my vision, as well as the challenge of creating them by managing uncontrollable (natural) variables. Promoting my country and my heritage by sharing local products is the cherry on top.
My passion started through my love of coffee, one of the most important crops in El Salvador. Being a fifth-generation coffee producer, I became entranced by the wide range of flavors and aromas of specialty coffee. This led me to a near-obsession to develop new ways to manage coffee farms and processing to highlight the unique qualities that coffee develops in specific micro-climates.
I started Ron Cihuatán with the vision of developing a long-term business focused on a rum that would become the ambassador of El Salvador. From the business strategy to formula development and branding, I had to do what had never been done in my country: creating El Salvador's first rum.
2.    Biggest achievement you personally feel you have accomplish for the rum industry.
My biggest achievement has been giving the rum industry a new, undiscovered origin. El Salvador is a non-traditional rum country, with no ties to the Caribbean and Pirates. However, it's blessed with stubborn people who are not afraid to rise up to any challenge: producing one of the best rums in the world in a country that didn't produce rum before.
3.    What made you fall in love with rum and when did it happen?
When I decided to become a rum entrepreneur, my first order of business was attending a rum trade show to learn about the industry. The next one available: ShowRum in Rome. There, I had the opportunity to meet Massimo Righi who was kind enough to let me try his Silver Seal single-cask rums. I was blown away by the wide range of flavors rum could develop and by how each barrel could drastically change the rum´s profile. Ever since, I have been keen on tasting every cask at Ron Cihuatán and enjoying their subtleties!
4.    What is that thing that makes you want to continue in the rum industry?
A huge objective. I set out to make Cihuatán the ambassador of El Salvador; to have the world discover my country through Cihuatán Rum. We are on our way to achieving this and our first steps have been firm, but we still have a long way to go!
5.    Favourite Drink + Recipe
Cihuatán Dark & Stormy
2 oz Cihuatán Rum 8 years
¼ oz lime juice
Top with Ginger Beer
6.    Where do you see the rum industry today and in the next 5 years?
Currently, I see more and more people interested in new flavors and origins, becoming attracted to products that are authentic and unique. Rum is being seen as something that can be premium. People are getting it.
In the next five years, I expect consolidated growth in the premium rum category, as people recognize the value of a well-crafted, authentic product and set it to par with other premium spirits.
7.    Share some (2-3) of your mentors and how they have help you.
The first one would have to be Alfredo Pacas, my father and boss. He has modelled for me what it means to be a creative entrepreneur and a responsible businessman. In fact, at the same time I was setting up Cihuatán, he was creating a local bank from scratch with some of his colleagues. Sharing these experiences side by side added a dimension of camaraderie to our dynamic. He has planted in me the love of our land the desire to share what we have to offer with the world.
My other mentor is Luis Ayala, well-known expert in the rum industry. Working side by side with Luis has been very inspiring since he presents me with options and constantly challenges the status quo. He has taught me that rum is not just a spirit; it is a complex substance that undergoes myriad chemical reactions that can result in a wide array of compounds. It is only by understanding these reactions and their resulting products that one can innovate in the rum industry.
8.    What 3-5 things do you have in your bucket list for the next 12 month?
To share the story of Ron Cihuatán with consumers at trade shows. It is always a pleasure to share our rum and our story with whoever wants to learn about it, and see how each person connects to it. Participating in these trade shows is a great opportunity to get direct, first-hand feedback!
We are restless, and this makes us always want to keep innovating. In the next 12 months, I want to develop a new rum for eventual launch, especially because of the prototype tasting this process requires (too much fun!)
To climb the Izalco Volcano in Sonsonate, El Salvador. From the peak of this perfect cone, you can see the Pacific Ocean. It's supposed to be quite an adventure.
We sold the first bottles of Ron Cihuatán, ever, in 2015. As a new company, we have been investing resources into building our brand and get "the ball rolling." In the next 12 months, we will reach break-even point for the first time ever!
When you plant a coffee tree, you need to wait at least four years for it to produce a decent crop, and a tree can last for 100 years! Deciding what varieties to plant is a big deal for a coffee farmer. So, in the next 12 months, I want to plant a section of a coffee farm with Rume Sudan, a variety with exceptional characteristics.
9.    How can people learn more about you? Website? Social Media Page?
You can learn more about Ron Cihuatán by following us on Instagram @roncihuatan or liking Ron Cihuatán on Facebook.
Also, you can experience my day-to-day as a rum and coffee producer through my personal Instagram @cafe_pacas.