Rum connoisseur interview of the week: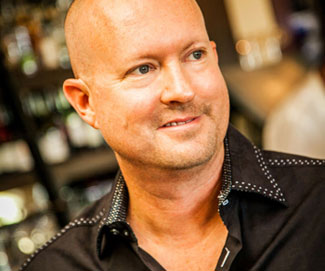 ANDREW TROYER
Entrepreneur, Founder, owner, and CEO of ARÔME 28 Rum.
1) Who is Andrew Troyer?
I am a family guy. I have 2 amazing kids, and I've been married to my beautiful wife for nearly nineteen years. One of my greatest joys is getting to travel with my family. Besides spending a few years as a child in Arizona, I grew up in a small town in Northwest Ohio. Although agriculture was a more likely a career path, I always had an interest in products that were special and the best in their class. In my sales career, I transitioned from luxury automobiles into yachts. As an entrepreneur, I had a vision for a product and strived for several years to bring my vision to fruition.
2) What made you fall in love with rum and when did it happen?
My life changed at a small bar in Rosemary Beach, Florida in November of 2012. While drinking a bottle of Cabernet with a friend and discussing wines, wine cellars, vodka, and sipping tequila, I asked a question … Where is all the great sipping rum and why aren't they on the shelf?
Like Alice jumping down the rabbit hole, I began searching out and tasting hundreds of rums from around the globe. It was through this adventure that my love for rum grew. I tasted many that I liked, many I personally did not like, and of course some I loved. What has struck me most is the diversity of the rum market. There are varying views and opinions on rum, but what I appreciate is the complexity of rum and the passion behind every brand.
I was invited to attend The Italian Rum Festival SHOWRUM in 2012 providing me a chance to visit with Rum Experts from around the globe including Robert Burr (USA), Javier Herrera (Spain), Leonardo Pinto (Italy), Rene van Hoven (Netherlands), Dirk Becker (Germany), and Luis Ayala (USA).
3) The biggest achievement you personally feel you have accomplished for the rum industry.
When asked this question, I am a bit perplexed. I'm not sure I've done much at all. I recognize that I am a small fish in a very large pond. My goal is to bring an amazing sipping spirit to market for those that seek amazing. Early on I was introduced to an exceptionally talented Cuban-born rum master and was blessed to find and purchase rum out of an aging warehouse in Panama. The rum is extraordinary and it's not due to my own ability. I focused on creating a package and brand that represented the exceptional spirit it contains. The packaging is extraordinary because of the hard-working people who were able to understand and craft my vision.
So, I guess my accomplishment so far is to have spent nearly 4 years of my life bringing ARÔME to life and now watching the bottles appear in places like the Ritz-Carlton, St. Regis, Four Seasons, Ruth's Chris, and many other outstanding, award-winning restaurants. I'm humbled by the Sommeliers, Chefs, F&B Directors, Restauranteurs, and consumers that have given me the opportunity to introduce ARÔME 28, and want to share the experience of ARÔME 28.
4) What is that thing that makes you want to continue in the rum industry?
The fact is that rum is a diverse product, it is why people love it, why it has the long history that it does, and why so many regions have their own unique processes for making rum. I prefer rum that is best enjoyed neat, with an incredible aroma, and great depth of flavor, my friend David Russell expresses. I personally don't typically enjoy my drinks to be loaded and mixed with juices and syrups. That's just not my preference. I want to provide, for people like me who enjoy sipping fine, aged spirits, an aged rum that is enjoyable simply as it is. ARÔME 28 is for those who want to sip and have flavor and aromas that overcome their palate with pleasure. That is why I wish to continue in the rum industry.
We have a market that is growing, gaining appreciation, and recognition. It is an exciting time for rum. I am honored to be a part of it, and I am working hard to produce a product that I am proud of.
5) Favorite Rum Drink?
Sipping ARÔME 28 neat from a crystal glass. Simple. All you need to do is enjoy the aroma and savor each sip. I like experiences so when I visit an amazing bar I typically ask the artist behind the bar to make something amazing. This started while sipping creations from Mr. Matteo Zed some 3 years ago in Rome. I love to be surprised and see the awesome crafts that these artists produce.
6) Where do you see the rum industry today and in the next 5 years?
As an industry, I see that there is a real spark of growing interest in rum. Rum is such a complex product with many variations, it is anything but dull. Over the next 5 years, I think that you will see a greater appreciation for truly aged rum, and it will become much more than a spring break mixer. As we have watched the craft market grow, there is a definite demand for a movement away from the large, mega producers. People want to have something special and unique with exceptional quality. I also predict that the industry will unite in a positive way and focus on the common goal of elevating the spirit of rum.
Over the next 5 years, I plan to expand the ARÔME product line-up. I have introduced our brand to the market with a very special and small batch of ARÔME 28. Rum aged a minimum of 28 years is obviously not in large supply, it only makes sense that ARÔME 28 is a very exclusive product. Although we don't currently have plans to produce another batch of ARÔME 28 we do plan to expand and offer rums from varying age ranges. I appreciate many approaches to making rum, and although ARÔME 28 is a Panamanian rum, you may see us produce rums from other regions of the world as well. I have a very open mind and see that there are many people who are passionately making great rum, all over the world, and we want to bring those together and share them. I think that we need to appreciate the broad heritage of rum.
7) Share some (2-3) of your mentors and how they have helped you.
My Grandfather, Bob Shinabery, is one of my top sources of inspiration in my life. Although I wish we would have had more time together, Grandpa Bob had a real impact on me. He was a poor Michigan kid that built an equipment business and farm from nothing. Grandpa was honest, fair, and had a certain clarity as it related to most situations. I miss him greatly. Dave Russell Dave has been a Special Advisor to ARÔME. In truth, Dave has helped walk me off the ledge a time or two as I battled and struggled with a vast array of supplier issues and lost funding for ARÔME. Dave has graciously offered his friendship and time in ways that have allowed me to see the path again when I was deep in the woods. Cheers to you Captain Dave!!
8) What 3-5 things do you have on your bucket list for the next 12 months?
1) On a personal note, I want to take my family back to Sedona, Arizona. After taking a trip there a few years back, we fell in love with Sedona. The beauty of the red rock mountains and peacefulness in nature is something we enjoy. We have put a lot into the development of our company over the past few years and it is important for us to take time out as a family to recharge.
2) I want to align ourselves with a couple of key charity organizations. My heart goes out to the children and families who struggle due to health issues. It is my firm belief that each of us can hugely impact the life of a child by giving our time and resources.
3) I plan to take my beautiful wife Beth to Italy to celebrate our 20th wedding anniversary. Italy seems like the perfect place to celebrate our marriage.
4) I want to expand ARÔME to include both Europe and Asia. We are actively looking for distributor partners in Europe and Asia. In the next twelve months, I expect to have formed solid relationships.
9) Any final thoughts?
I'd like to say thank you to all of those who have so graciously allowed us to share ARÔME 28 with you.
We have met some of the most amazing people on this journey. The talented people who have made it possible for us to craft our vision, we thank you. We have awesome ARÔME 28 fans who have been
incredibly supportive of our vision and passion. We look forward to sharing much more with you as we grow. Keep Sipping, Keep Sharing.
A special word of thanks to Robert Burr. Robert graciously invited me to openly explore rum on a global scale. He not only offered his friendship but a belief in our vision. Thank you, Robert.
10) Where can people learn more about you? Website? Social Media Page?
Website: www.RumAROME.com
Facebook: https://www.facebook.com/Rum.Arome
Instagram: https://www.instagram.com/aromeofficial/
Become a VIP: http://www.rumarome.com/vip