Rum connoisseur interview of the week: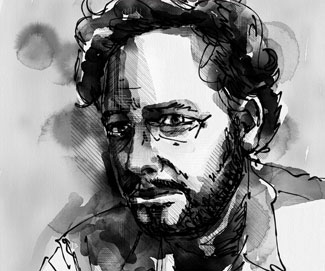 ANDREW BOHRER
Bartender, writer, illustrator and legend living in the Pacific Northwest
1) Who is Andrew Bohrer?
Andrew Bohrer dipsographs in a surly fashion at andrewbohrer.com, various drinky periodicals like Bar Magazine, PUNCH or Seattle Met and recently authored The Best Shots You've Never Tried: 100+ Intoxicating Oddities You'll Actually Want to Put Down, a book that he did not title. He gives seminars on topics ranging from chef's knives to chainsaws; topics for which he is well versed. Andrew Bohrer is a co-founder of the Washington State Bartender's Guild.
He was a former bartender at Vessel and Rob Roy and was the opening bar manager at both Naga Cocktail Lounge and Mistral Kitchen―all 4 bars listed in Food and Wine's top 100 bars in the world. On the other side of the bar, Andrew created & cultivated the spirits portfolio for Vinum Importing as their spirits director and was the VP of Sale for Novo Fogo Organic Cachaça.  Andrew is currently a ronin bartender, mixology consultant, freelance writer, and illustrator. These days you'll find him speaking at Tales of the Cocktail, teaching classes to anyone that doesn't run away & globetrotting for adventure, cocktails, and knowledge with his wife, Michelle Broderick. He is working on a 2nd book that will likely also have a dumb title but be funnier than most other cocktail tomes.
Andrew can also open a bottle of beer faster than any mortal.
2) What made you fall in love with rum and when did it happen?
I think it would have been early days in those crummy Sunday afternoon shifts, sipping a taste of each bottle to learn.  El Dorado 12 would have been there, demurely sitting on the bar and it was profound.
3) The biggest achievement you personally feel you have accomplished for the rum industry.
When working for Novo Fogo, I think I convinced scores of people that cachaça matters and that agricultural rhum or cane spirits are really Eau de vie.
4) What is that thing that makes you want to continue in the rum industry?
For better or for worse, rum has the greatest diversity in flavor which gives it the greatest diversity in interest and appeal.  The spirits industry needs nerds that seek truth and fools that seek frivolity— rum fans know how to appreciate both.
5) Favorite Drink + Recipe
I like a Hemingway Daiquiri with chewy dark rum and a dash of Peychaud's.  I will not provide a recipe, just try it how you think it should work.  Also, Caipirinha de Maracujá, just cachaça, sugar, and passionfruit, couldn't be better.
6) Where do you see the rum industry today and in the next 5 years?
The rum (and spirits) industry is more interested is more interested in province and truth, I can't imagine new brands succeeding without transparency.
7) Share some of your mentors and how they have influenced you.
I have worked with Ed Hamilton who allows no impunity for squishy statements of half options, I toured around small Brazilian distilleries with Felipe Januzzi who has an inspiring love of cachaça

8) What 3-5 things do you have on your bucket list for the next 12 month?
I need to get to Lost Lake and I'll like to design a tiki mug.
9) Any final thoughts?
Everyone always says "it's rum's  year" and I think that's bullshit.  Rum has so many heartbreakingly authentic brands that will alway grow and people will always fall in love with.  That kind of love is a slow burn, it doesn't take over the masses, but it does create life-long adherents.
10) How can people learn more about you? Website? Social Media Page?
andrewbohrer.com and or @andrewbohrer on twitter, Instagram, all of them