Rum connoisseur interview of the week: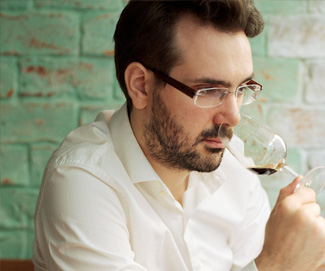 AlEXANDRE VINGTIER
Co-Founder Rumporter magazine. Author, speaker, and lover of Rhum/Rum.
1) Who is Alexandre VINGTIER?
I am a French spirits consultant & author, also judge at numerous spirits & cocktails competitions worldwide. I work with appellations, distillers, blenders, bottlers, distributors, retailers, bartenders, sommeliers, chefs and even noses (in perfumes), and have visited hundreds of distilleries around the world and taste thousands of spirits each year. I work for many foods, cocktails & spirits shows in France (Innovations' Bar at Paris Cocktails Spirits, Cocktail scene at Omnivore World Tour Paris, Paris Cocktail Week,France Quintessence, Rhum Fest Paris & Marseille, Bordeaux Tasting, Paris Grand Tasting, Angoulême Gastronomades…) and regularly host conferences and guided tastings abroad, in USA, Canada, Mexico, Haiti, Belgium, Austria…
I have written three best-selling books on whisky (Iconic Whisky, available in English, Jacqui Small / Quarto May 2016, over 30.000 copies sold in one year in various languages, French, Italian, Dutch and soon German, Russian and Chinese also) and rum (101 rhums / 120 rhums, over 25.000 copies sold in French in 2 years, soon available in other languages) and am the co-founder and editor in chief of Rumporter, the magazine of the rum culture since 2013, and spirits specialist for La Revue du Vin de France, the French leading wine & spirit magazine. I am also the former editor in chief of the French edition of Whisky Magazine & Fine Spirits and an ambassador of the Scotch Malt Whisky Society, the largest spirits tasting club in the world. As a certified Cognac Educator, I currently work with the Bureau National Interprofessionnel du Cognac (BNIC) on food pairing and the promotion of cognac in France and North America, and I've also worked for the Armagnac (BNIA) and Tequila (CRT) appellations. Prior to that, I've worked from 2006 to 2011 for La Maison du Whisky as the Head of Selection, receiving many awards and importing many new rum brands.
As people tend to put labels, some people know me as the expert on whisky, or rum, or brandies, or even Chinese baijiu… most of the time without being aware that I work on all distilled spirits categories. I first of all went deep into whisky, which was a great school in a way, but the perspectives of such a complex world as rum, such a terroir driven category such as cognac and the fascinating world of agave spirits and Chinese baijiu are essential to understanding the true specificities of each category, each producer, each terroir.
2) What made you fall in love with rum and when did it happen?
Someone who loves the incredible world of spirits definitely has a special connection with sugarcane spirits, rum / rhum / ron, Brazilian cachaça, Cape Verdean grogue, Batavia arrack, Japanese sugarcane shochu… As a buyer and spirit enthusiast, I tried to discover, understand and import most of the best and most traditional spirits from each country around the world. I do think spirits are cultural goods, connecting people, places, histories with others and so most of the rums are like ambassadors of their culture. Most of the time, spirits are the only products we know and even taste from some countries, even if we cannot name some significant persons from that country and anything else. It's an invitation to discover, so we have to be respectful and not be judgemental, at least at first to keep an open mind.
My first "wow moments" with rum actually took place in Italy. First in Bologne's Whisky Paradise, the world's greatest whisky collection, where I went to taste and buy cases of the best whiskies ever, having tried dozens of fantastic whiskies bottled in the 40s to the 70s during 2 days, and I got distracted by some beautiful labels : the Silver Seal collection very first bottlings, some old Demerara rums (1971 Wildlife Series #1 32yo bottled in 2003 at 71.8% and the 1974 28yo bottled in 2002 at 68.5%). I was stunned, which was particularly impressive after the 50+ amazing whiskies I've already tasted that day. The second was again in Italy, in Turin this time, with Graziano Fecchio of F&G srl, one of the unsung whiskies & rum hero in Italy, who's been to a dozen distilleries around the world to buy bulk and create his own blends and brands when nobody considered it an interesting category globally. He introduced me to the wide spectrum of the category, a fascinating world, and more difficult to discover, understand and handle than whisky for sure.
3) The biggest achievement you personally feel you have accomplished for the rum industry.
Definitely creating Rumporter, " the rum culture magazine", now also available in English and Spanish online after being launched in 2013 in French. It might already be one of the top 5 spirit magazines in Europe and we're really happy to create a platform between producers, retailers, bartenders and consumers and to create of international network of correspondents. It's a true rum odyssey, an achievement after having helped the French and European market focus more on rum 10 years ago through distribution, articles, and events. That's also why I've written my first rum book, 101 rhums, at the same time as launching Rumporter, to raise awareness and share knowledge, meet more producers and passionate people. Also working on the development of Haitian rums with several local producers, studying some of the sugarcane and rum history of this fabulous country and let people really understand the uniqueness and quality of these rums. And that's only the beginning of a love story 😉
4) What is that thing that makes you want to continue in the rum industry?
Rum is part of the pinnacle of some cultures so it's fantastic to use it as an introductory product to people, history, culture, gastronomy, art… I'm traveling 3 to 4 times per year to different rum producing countries not just to visit distilleries but really get a real sense of the signification of rum in that country/area and even work with the producers. Like all industries, people know their distillery and products but most of the time have little knowledge of competitors, and even less on other spirit categories. When you focus on production, you usually don't have enough time to discover what the others are doing, so if I can help in a better understanding of the competition, and perhaps connecting producers, that's the best reward. Preconceived judgments are pointless, exchanging ideas is the key!
Also, rum is fun, it's the only category which covers the sipping of products, aged or unaged, cocktails, liqueurs, cream liqueurs, spiced… you can enjoy it anytime, with anyone!
5) Favorite Drink + Recipe
I extremely rarely try a spirit more than five times, as I always try to discover new products. Also, I do drink some long drinks or cocktails from times to times but I mostly taste, which means I do spit almost all of the time and that, I can't do in bars. So either I tend to find some special bottle or sample I've received to discover and the rum cocktail on the bar's menu. In short terms: something new, please!
6) Where do you see the rum industry today and in the next 5 years?
Well, local sugarcane spirits have become or are becoming rum according to international standards so the commercial expansion is phenomenal in rich countries. And locally producers have to also improve to keep up with volume and quality and even extend their range. Rum is strong in the cocktail culture and becoming more and more in the sipping one. Spiced are getting more present. Le's hope we'll have more flavourful and well-aged rums in the next 5 years, the trend is already there.
7) Share some (2-3) of your mentors and how they have helped you.
I can't name any mentors, I am no disciple but I've met hundreds and hundreds of distillery or brand owners, distillery directors, cellar masters, master blenders and scientists who have taught me essential things. Every day I am learning some new and useful and read lots and lots of books. Concerning rum, I'd say Désiré Kervégant's Rhum et Eaux-de-vie de canne is the most essential book ever written on the subject (in 1946), also Alain Huetz de Lemps's Histoire du Rhum (1997). Unfortunately not translated.
8) What 3-5 things do you have on your bucket list for the next 12 month?
New issues of Rumporter Magazine and more and more articles in English and Spanish, a next book on French Spirits, another rum book, many travels (US, Canada, Martinique, Barbados, St Lucia, Guyana, UK, Belgium, China and Japan already planned in 2017, probably more) and many collaborations in creating new spirits…
9) Any final thoughts?
Let's share more rum passion for a happy 2017 year!
10) How can people learn more about you? Website? Social Media Page?
Obviously
www.rumporter.com
or check the FB pages of my books
https://www.facebook.com/101rhums
https://www.facebook.com/iconicwhisky
and come to my tastings/conferences!