Rum connoisseurs interview of the week: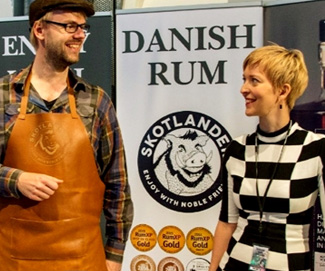 ANDERS SKOTLANDER
& TITTE HANSEN
The power-house team behind Skotlander Rum!
1) Who are Anders Skotlander and Titte Hansen?
We are Anders Skotlander and Titte Hansen and we run a small rum company in Danmark called Skotlander Rum. Everything is made by hand in small copper pot stills. We produce 5,000 bottles per year, primary to the Scandinavian market but from March also available in the USA.
2) What made you fall in love with rum and when did it happen? 
We've always been curious about how food and beverages are made – and we've been brewing beer and making cheese and stuff as a hobby, so one day enjoying a neat rum in an outdoor spa it struck us: Could we produce a Danish rum? We wanted to make a rum that was rich in taste without any additives or sugar – a white rum that was so good that you could drink it neat and that it would get even better when aged. And that's how our rum adventure began 4 years ago – today we have quit our jobs, sold our apartment in the city and have moved to the countryside to focus 100 % on being rum-makers.
3) The biggest achievement you personally feel you have accomplished for the rum industry.  
Winning the "Best in Class" for our "Skotlander White Rum" at the Miami Rum Renaissance Festival  2015 was definitely a game changer for us! Skotlander White Rum is a rum that we are very proud of as it is the base in all of our products, so to be awarded the "Best in Class" confirmed that the "recipe" was right. And it is great to know that we are not the only ones who think this is a good rum.
4) What is that thing that makes you want to continue in the rum industry? 
Rum is an amazing spirit and it is so exciting to explore all the ways to go with barrel aging. A lot of people tell us, that it is almost impossible to produce and mature rum in Scandinavia, but we don't agree. Barrel aging in a cold climate makes the maturing go slower – like our fermentation – but that is our conditions and that is fun to have some dogmas to follow. We could choose to heat up the room, but we are not in a hurry and we have time to wait.
5) Favorite Drink + Recipe
Neat or a classic Rum Sour – the really good thing about the rum sour is that you can actually taste the rum in this drink.
Ingredients:
6 cl Skotlander White Rum
3 cl freshly squeezed lime juice
1.5 cl simple syrup
1 cl egg whites
Lots of ice cubes
Lime zest for garnish
How to mix: Pour all of the ingredients (no ice) into the shaker and give it a good shake for about 10 seconds. Add ice cubes and shake for another 15 seconds. Strain into a cocktail glass and garnish with a peel of lime zest.
6) Where do you see the rum industry today and in the next 5 years? 
We believe that the Danes are just beginning to learn to drink rum and we hope and think the market is still growing in both Europe and the US. Making rum in the EU is subjected to a strict set of rules and since Denmark has no history of aging spirits in barrels, we experience a lot of time-consuming work with the health department. We're working in collaboration with the authorities and hope in the near future the rules of rum will be more transparent for both producers and consumers. This will hopefully also mean that it will be easier for the consumer to distinguish the rums with additives from the ones without.
7) Share some (2-3) of your mentors and how they have helped you.
A lot of people have inspired us to become full-time rum makers. Denmark has within the last ten years explored it's own food ingredients and terroir.  For instance, instead of using Mediterranean lemons in the food, the top chefs started using Danish Buckthorn – more sustainable. One of the first to focus on this was Claus Meyer, the co-founder of NOMA and now also the Food Hall in Grand Central Station in New York City. I have never met Claus in person, but he has inspired us extremely.
Denmark has some interesting rum folks, for example, Ingvar "Rum" Thomsen and Johnny Drejer, both have a deep knowledge of rum, and I have used them to taste our stuff, they are very good at giving criticism.
8) What 3-5 things do you have on your bucket list for the next 12 month?
We've just invested in a lot of different barrels that we' re going to experiment with. We've also just arranged it so that we can age some of our casks in a bunker from World War II located in the north of Denmark. We have also just received the first order from the US – hopefully, 2017 will be the year that we enter the American market.
9) Any final thoughts?
Drink more rum – it's fun 🙂
10) How can people learn more about you? Website? Social Media Page?