Rum connoisseur interview of the week: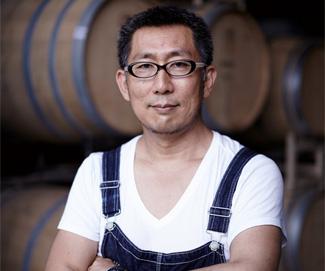 YOSHIHARU TAKEUCHI
The founder and distiller of NINE LEAVES Rum.
1) Who is Yoshiharu Takeuchi?
Yoshiharu Takeuchi 竹内 義治 is the founder and distiller of NINE LEAVES Rum. He is also the third generation successor to a company that makes automotive parts for the world's leading Japanese automaker. He, as well as his family, take extreme pride in being a part of Japanese Craftsmanship. Yoshiharu had always wished to present the heart of Japanese Craftsmanship to people directly which is what lead to his new challenge- Rum making. He is 51 years old. male and his occupation is president of Takehiro Co.,ltd., along with NINE LEAVES distillery.
2) What made you fall in love with rum and when did it happen? 
I decided 5 years ago. I looked around where I am and I found great domestic material to work with (sugar cane, yeast, and water), then I sourced the best equipment and poured my spirit into the process. Rum is not limited by location, wherever it is made, I think I can produce.
3) The biggest achievement you personally feel you have accomplished for the rum industry.  
Making good friends in all over the world, and seeing their smile, they make me understand true gratitude.
4) What is that thing that makes you want to continue in the rum industry? 
I swore to walk the line and go to the limit when I started.
5) Favorite Drink + Recipe
I love the spirit and cocktails!
My recommendation for my rum is, please, do not dilute with pure water.
Soda or juice are perfect, but water is not beneficial and under 43% my rum does not shine as well as it should.
6) Where do you see the rum industry today and in the next 5 years? 
I am not the prime minister or the president, I have no idea.
In 5 years, nobody may even remember me. However, I want somebody to dig me out in more than 10 years as legend rum from the far east!
7) Share some (2-3) of your mentors and how they have helped you.
This is a difficult question, because, it is very difficult to choose some people as a mentor.
So many people always give me good words.
Mr.Akuto who is master of "Ichiro's malt whisky" told me the base of a distillery.
Ms.Kristina who has experience of the judge of Rum Festival told me the effect of a few drops of water.
Mr.Uchikawa who was one of the directors of Toyota Motor Corporation has impressed upon me the attitude for driving production.
8) What 3-5 things do you have on your bucket list for the next 12 month?
They are so many things. But, I cannot say them, please follow us to see what will be happening.
9) Any final thoughts?
I would love to stock several hundred barrels to last me until death.
10) How can people learn more about you? Website? Social Media Page?
Please check my website; https://www.nine-leaves.com/