Rum connoisseur interview of the week: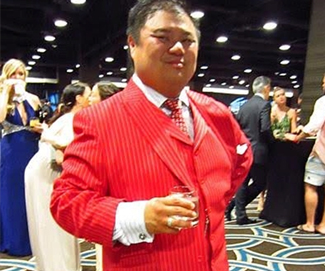 THE INIMITABLE ROCKY YEH
A wandering evangelist of spirits, whose love of rum/rhum is legendary.
1) Who is Rocky Yeh?
I live in Seattle, WA where we have the best oysters in the world and soon the baseball team of maximum frustration,  I love all good things in life.  I want to share them with everyone and spread knowledge, passion for, and appreciation of all those things with as many people as possible.  Also, I am newly the Gardien des Chais for Maison Ferrand which encompasses Plantation Rum.
2) What made you fall in love with rum and when did it happen? 
I first fell in love with rum about 12 years ago.  It was a Guatemalan rum that no longer exists as such.  It was rich and complex and had so much going on and my mind was blown.
3) The biggest achievement you personally feel you have accomplished for the rum industry.  
Building RumBro into his own persona. Through this, I have become the self-appointed Rum Ambassador for South Africa, for our Craft distillers and our Cocktail Bar staff who help to make everyone's life just a little better every day.
4) What is that thing that makes you want to continue in the rum industry?
Everything that is mentioned in this little story, brings new exciting ventures.
5) Favorite Drink + Recipe
Most great Rum cocktails that are properly prepared.  My own Dark 'n Stormy is probably the one drink that I go to more than others, but then we have a rather warm climate – and I love Ginger Beer.
6) Where do you see the rum industry today and in the next 5 years? 
The South African Rum category is minuscule and has been kept alive by the Captain, Red Heart and a bit of Bacardi. We have a few craft distillers starting out in manufacturing Rum and the industry is on the cusp of a resurgence. We are after all a great sugar producing country with vast tracts of land covered in sugar cane and a tropical climate. That makes for good Rum. Our market has become jaded with Wine Tastings, Brandy Tastings, and Whisky Tastings. Craft Gin is going through a good growth curve and Rum has a blank canvas to work with.
7) Share some (2-3) of your mentors and how they have helped you.
The passion of the Burr's at the Miami Rum Renaissance Festival was probably the first to help me get excited. Richard Seale, Luca Gargano, and Bailey Pryor are phenomenal lights in the industry and of course the indomitable Ian Burrell.  Just about everyone that I have met in this industry has been fantastic and incredibly passionate about Rum!
8) What 3-5 things do you have on your bucket list for the next 12 month?
A Rum Faire for South Africa and a commitment from the manufacturers to grow the Rum category.
Show the world what South African Rum is about.
Assist our Rum manufacturers in exporting their products to the world at large.
9) Any final thoughts?
We have a sophisticated market as well as a naive market in South Africa.  This dichotomy is part of the excitement that will keep us growing and keep Rum growing for many years to come.
10) How can people learn more about you? Website? Social Media Page?
We have a web page which is a little static at the moment but is undergoing a revamp and should soon be wowing everyone who visits us at www.rumbro.co.za
We do also have a Facebook page RumBro, that shows off a lot of the building of a persona for this Rum industry.
I also have my own Facebook page Andy Kiloh and a Linkedin presence andykiloh.