Rum connoisseur interview of the week: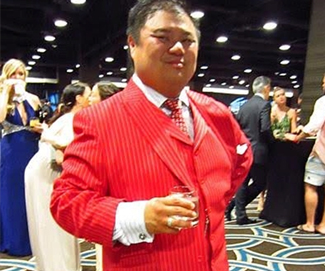 THE INIMITABLE ROCKY YEH
A wandering evangelist of spirits, whose love of rum/rhum is legendary.
1) Who is Rocky Yeh?
I live in Seattle, WA where we have the best oysters in the world and soon the baseball team of maximum frustration,  I love all good things in life.  I want to share them with everyone and spread knowledge, passion for, and appreciation of all those things with as many people as possible.  Also, I am newly the Gardien des Chais for Maison Ferrand which encompasses Plantation Rum.
2) What made you fall in love with rum and when did it happen? 
I first fell in love with rum about 12 years ago.  It was a Guatemalan rum that no longer exists as such.  It was rich and complex and had so much going on and my mind was blown.
3) The biggest achievement you personally feel you have accomplished for the rum industry.  
Getting people to expand their horizons about rum.  There are many styles out there and many are delightful.  I think I've directed a lot of people to try as many as possible.
4) What is that thing that makes you want to continue in the rum industry?
There is so much more to rum still and we still have a long way to go to getting rum respect that it deserves.
5) Favorite Drink + Recipe
Curacao Daiquiri
1.5 oz Plantation 3 Stars or other aged white rum
1 oz lime juice
.75 oz Pierre Ferrand Dry Curacao
6) Where do you see the rum industry today and in the next 5 years? 
The rum industry is expanding by leaps and bounds every year in terms of exposure and more and more people are coming to appreciate the breadth and possibilities that exist within rum.  From funky Agricole to deep nuanced aged rums with secondary maturations, the universe of rum is opening up for more people and we need to keep that up.  At the same time, we need to make sure over the next few years to remember to not take ourselves too seriously.  I think over the next five years rum will continue to grow both in volume and also in cultural influence.  More and more consumers will catch on to what a great deal rum is and the struggle will be to maintain quality and integrity with that expansion so that drinkers five years from now will be able to appreciate all that we love about rum today and perhaps more.
7) Share some (2-3) of your mentors and how they have helped you.
Guillaume Lamy – Guillaume has been an inspiration on how to build a brand with patience, hard work, and good cheer.  He is tireless and has been the best example I could have ever had on how to do things the right way.
Jim Romdall – Everything about service and being a good barback I learned from Jim.  There's no one else I love holding down a beat down rush with a smile and grace more so than Jim.  It's what I miss the most about not being behind the bar anymore.
8) What 3-5 things do you have on your bucket list for the next 12 month?
A road trip on the BBQ and fried chicken trail.  Has anyone not noticed that some of the most dynamic things happening in bars and restaurants right now happen to follow this rough line from east to west of slow cooked meats and fried delights?
Visit more distilleries in the Caribbean.  It's been several years since I last got a chance to visit distilleries in the Caribbean and there is so much to still to explore and learn.
Increase awareness of the diversity of those in our industry and the wealth of experiences therein and the unique challenges faced by those outside the norm.  We are working towards a wonderfully inclusive and supportive community and I want that to keep growing.
Help put in place mechanisms to prevent sexual assault in and out of our industry and to help in any efforts to form support networks for any victims.  It's an ugly truth that needs to be confronted and eliminated. We all of us have the ability to lead and sustain the charge to make real progress here and should not pass up the chance to.
9) Any final thoughts?
Rum is a broad and wonderful world with many styles to appreciate and love.  Not all rums are for everyone, but I like to think there's a rum for everyone.
10) How can people learn more about you? Website? Social Media Page?
Twitter and Instagram @rockdoggydog