Rum Connoisseur interview of the week: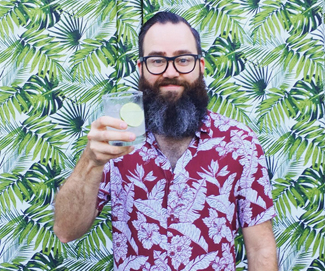 NATHAN HAZARD
Ambassador for Real McCoy Rum, Tiki lover, co-Founder of The Coconut Club, Bar Consultant, Mixologist and lover of Rum!
1) Who is Nathan Hazard?
Nathan Hazard is a Los Angeles-based tiki nut, Barfly, and creative cocktailian. He serves as brand ambassador for The Real McCoy Rum and co-founded The Coconut Club, LA's premiere tiki-inspired supper club, named one of "The 5 Most Amazing Underground Dining Experiences in America" by Vogue. Last year Nathan developed the bar program for Pedro Mandinga Rum Bar in Panama City, Panama, soon to open its second location in Bogotá, Colombia. His cocktail recipes have been published in print anthologies including The Way We Ate (Simon & Schuster), Savory Cocktails (Ulysses Press), and forthcoming L.A. Cookbook (Rizzoli). Nathan was featured in LA Weekly's 2017 People Issue, named one of "The 50 Angelenos making L.A. a better place."
2) The biggest achievement you personally feel you have accomplished for the rum industry.
I can only hope it is yet to come… But thus far, a personal achievement for me was getting to help open a sexy Euro-Caribbean-colonial rum bar in another country, training an under-experienced staff in a language I do not proficiently speak, and returning unannounced one year later, ordering a house daiquiri, and it being absolutely perfect.
3) What made you fall in love with rum and when did it happen?
For me it was a one-two punch; tiki first, followed by an explorative passion for its fuel, rum. We flirted for years, through Kon Tiki Scorpion Bowls, Trader Vic's 1944 Mai Tais, and Cuba Libres on Bar Keeper's back patio, but we consummated our relationship around my 30th year through the marriage of Jamaican overproof and lime.
4) What is that thing that makes you want to continue in the rum industry?
Each sip of something new and exciting; it's replaced Christmas morning.
5) Favorite Drink + Recipe
I'll drink a daiquiri any damn time, but lately, I find myself ordering martinis more than Mai Tais. I've played around a lot with rum-based martini recipes, but this spec remains a favorite.Martini No. 9
2 oz The Real McCoy 3 Year
¾ oz Bianco Vermouth
¼ oz apricot-infused Amontillado Sherry
dash orange bitters
Add all ingredients to a mixing glass, add ice and stir. Strain into a chilled cocktail glass. Express the oils from a lemon peel over the surface of the drink.
6) Where do you see the rum industry today and in the next 5 years?
Well, I think we're on to the fourth running year or so of being "the next big thing" in the spirit industry… What do you think, are we there yet? Regardless, it is an exciting time for rum, and just beginning to bloom in the US marketplace; like gin in the early oughts, I feel like. I would like to say that we will see some regulation in the category in the next 5 years, but that seems optimistic. Until then, hopefully, we'll see an increase in voluntary transparency, and a growing desire to produce quality juice via sustainable practices and humane working conditions.
7) Share some (2-3) of your mentors and how they have helped you.
Joe Keeper for empowering me as Bar Keeper's rum buyer, being an endless support and true original.Marie King is a powerhouse of knowledge, and equally generous. I have learned so much and tasted so many different types of rum saddled up at Tonga Hut, even if I don't remember it all…
Forrest Cokely is pretty cool too.
8) What 3-5 things do you have on your bucket list for the next 12 months?
Spending time with Richard Seale at the historic Foursquare distillery in Barbados.
Opening Pedro Mandinga 2.0 in Bogotá.
Celebrating The Coconut Club's 4th birthday.
Spreading all of the rum love.
9) Any last words?
I'd love one, thank you – Gin has always been the 'other woman' after all.
Editors note: This is a play on words; for those of you who do not know "The Last Word" is a cocktail with a Gin base from the 1920's. Well done Nathan. FC
10) How can people learn more about you? Website? Social Media Page?
http://www.laweekly.com/restaurants/coconut-club-co-founder-nathan-hazard-champions-classic-cocktails-8177533
https://www.instagram.com/nathanhazard
http://www.realmccoyspirits.com