Rum connoisseur interview of the week: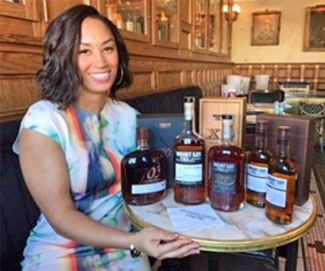 KARLENE PALMER-MCLEOD
National Brand Ambassador for Mount Gay Rum
1) Who is Karlene Palmer-McLeod?
Karlene Palmer-McLeod has been a National Brand Ambassador for Mount Gay Rum for the past five years, helping to train and educate the trade community and consumers about Mount Gay and bring to life the spirit of Barbados through the liquid.
From organizing and hosting tasting and blending events to developing new programs and activities to immersing individuals in the brand, Palmer-McLeod has been instrumental in educating and spreading the passion for Mount Gay from coast to coast.
Growing up in the U.K .with a Caribbean background, Palmer-McLeod has had a connection to the islands since birth, so working for Mount Gay was a natural fit. She studied at Loughborough University, U.K., a top four University in England, where she was a competitive athlete on the school's track team and received a Bachelor of Science in Sports Science and Management degree.
In 2009, Palmer-McLeod moved to the U.S. to continue to grow her event production capabilities and secured a job with Remy Cointreau to work on the Mount Gay brand and she's been hosting events and helping to recruit new fans to the brand ever since
2) What made you fall in love with rum and when did it happen? 
Growing up with Jamaican grandparents, I was always aware of the potent red Overproof Rum Punch that was present at any family get together. I was also very aware of how it often resulted in me getting a ten-pound note from happy family members, so my love of Rum has always been rewarding from an early age. I only appreciated premium rums, when I went to Barbados and learned how much time and detail goes into the production of this golden spirit. It's more than the ingredients, it's the terroir of the land and the people who nurture it from start to finish.
3) The biggest achievement you personally feel you have accomplished for the rum industry.  
My job is to introduce people to premium rum! It's breaking someone's preconceptions on a spirit that has been harshly judged due to its misuse. I have the pleasure of telling the story of how Rum was the original spirit, how the first president of the United States had rum from Barbados at the first inauguration. I am bringing the craft and history of a spirit which has many tales and is also a complex spirit which can be enjoyed in many ways on many occasions.
4) What is that thing that makes you want to continue in the rum industry?
The passion of the real rum lovers, I recently went on the Burrs Rum Renaissance cruise, with a great group of rum aficionados, seeing how much appreciation is shared amongst fellow rum drinkers, was impressive. I also love how each island has its own story and passion behind the spirit.
5) Favorite Drink + Recipe
Mount Gay Rum XO -Corn and Oil.
2oz Mount Gay XO
0.5oz Falernum
0.5oz Lime Juice
3 dashes of Angostura Bitters
Combine all ingredients in an Ice-Filled Rocks Glass, Stir to Mix completely and garnish with a Lime wedge.
6) Where do you see the rum industry today and in the next 5 years? 
More premium rums, more classic cocktails remixed, more Tiki, more Rum domination!
7) Share some (2-3) of your mentors and how they have helped you.
Chesterfield Browne was the original Mount Gay Brand Ambassador, it takes more than knowing how to make a drink to do this job well! Chester exemplifies character, charisma, and storytelling like no other. I also benefit from touring with Master Blender Allen Smith, every encounter is a learning experience which deepens the science behind the craft. This is not a job for everyone, but you learn from your audience and being with the team that actually make and live Mount Gay Rum is the best education I can ask for.
8) What 3-5 things do you have on your bucket list for the next 12 month?
Travel to as many distilleries as possible- not just Rum
Complete a tasting on a cruise, I had the pleasure of doing a tasting on a plane, so now I need to add a boat to the mix.
Set up my home bar to share the love with family and friends
9) Any final thoughts?
Rum is a broad and wonderful world with many styles to appreciate and love.  Not all rums are for everyone, but I like to think there's a rum for everyone.
10) How can people learn more about you? Website? Social Media Page?
Instagram @mountgayrum
www.mountgayrum.com