Rum Connoisseur interview of the week: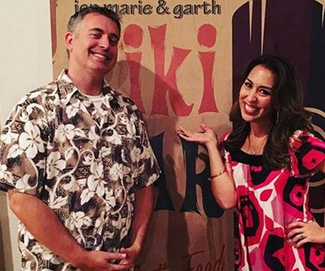 GARTH HANSON
Co-Founder/Leader of LA Rum Runners, spirits fanatic, cocktail enthusiast, teacher and devoted lover of rum!
1) Who is Garth Hanson?
I was born and raised in Los Angeles, a city I'm still very much in love with. College took me away to Tennessee, where I received a degree in Recording Industry Management. When I returned to the City of Angels, I started working in Hollywood, behind the scenes and experienced the world of television shows and commercials.  I then finally landed at The Walt Disney Company, where I've been for 15 years.  I currently work as a Facilities Operations Manager along with leading our divisions' Green Team. I married an amazing woman almost three years ago and we've been having the best adventures together.  We recently purchased our dream house, and still relishing in being proud homeowners. We now we have a bigger and better place to teach our Rum Classes and host our home bar, Piña De Oro.
2) What made you fall in love with rum and when did it happen?
I was curious about bartending and took Andrew Willett's Elemental Mixology classes when he was teaching in Los Angeles back in 2012. There I was introduced to what rum is and realized how little I or those around me knew about it. I started to focus specifically on learning more about rum to the point, like most rum lovers, I started collecting bottles. A few years later, my wife and I went to Barcelona. There in an old basement bar, I saw a bottle with a cool label I'd never seen and asked the bartender for a glass. I don't believe she knew about the bottle and charged me a single euro for 1/3 of a glass. One sip of the Edmundo Dantes and I was hooked on taking my curiosity to a passion.
3) The biggest achievement you personally feel you have accomplished for the rum industry.
My wife and I teach an Introduction to Rum class a few times a year. We've helped students learn to appreciate rum and open their eyes to the spirit world in general. For example how to read a label correctly, the importance and timing of shaking, and proper measurements when making a drink. I don't hear many of these types of classes that help the casual drinker and we've been told by our students that it's unique and special.
4) What is that thing that makes you want to continue in the rum industry?
That so few people truly understand what rum is, and I want to help educate those I can to make better choices when buying their next bottle or drink. I have found it rewarding when students leave our class thanking us for the knowledge they have gained. If I could teach full time, I would.
5) Favorite Drink + Recipe
My current favorite sipping rum is Four Square 2004
My favorite recipe at the moment is our house bar punch
Piña de Oro House Punch #1
1 ½ cup of Key Lime Juice
2 ½ cup of Doorlys McCaw Rum
¼ cup of Fruitlab Ginger Liqueur
¼ cup of Edmond Briottet Crème de Banane
2 ¼ cup of Dole Pineapple Juice
¾ cup of sugar
15ml of Vanilla powder
6) Where do you see the rum industry today and in the next 5 years?
It's a very exciting time, especially with the ability to learn and share so easily with the internet.  The consumer is becoming educated faster and the aficionados are asking more from the distilleries.
No doubt that Bryan Davis of Lost Spirits is charging forward with modern and new ideas to create an aged flavor in days versus years which will continue to send waves that the industry has never seen. As well as possibly upsetting some angels with his Prometheus release.
As for honest labeling, I don't see that changing for the better in the next 5 years.
7) Share some (2-3) of your mentors and how they have helped you.
Andrew Willett helped begin my interest in rum and spirits in general. His passion towards pre-prohibition mixed drinks and quality offerings sent me on the right path to have a higher standard. His book is my go-to guide at our home bar.
The Ministry of Rum Facebook group keeps me updated on the latest articles, gossip, and education. That community continues to inspire me to seek more knowledge.
The Rum Rhum Club hosted by Forrest Cokely and Marie King at the Tonga Hut in North Hollywood. They are always patient and willing to answer all of my questions.
8) What 3-5 things do you have on your bucket list for the next 12 month?
I'd really like to attend the rum festival in Berlin and travel around Barbados. Perhaps the next 12, 24, or 36 months.
9) Any final thoughts?
Ask questions.  If you are curious about something, find out. I recently was on a brewery tour in Maine when I asked the tour guide about open vs closed tank fermentation and how the rum distilleries I've toured had closed yet I've seen pictures of open. He said that he only knew about beer but perhaps ask another tour attendee because he's into rum. I introduced myself and it turns out the gentlemen was a Master Distiller at Angostura. We talked for a good 45 minutes about the industry…all because I asked a question.
10) How can people learn more about you? Website? Social Media Page?
We are most active on Instagram as Larumrunners. Those who are interested in finding out more about the classes that we teach in the Los Angeles area can email me at garth@larumrunners.com