Rum Connoisseur
Interview of The Week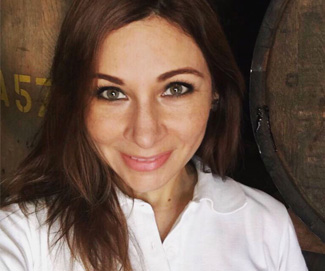 GABRIELA ALAYA
MASTER BLENDER RON CIHUATÁN
1.    Who is Gabriela Ayala?
I see myself as a person in a constant process of discovery. I love learning and new experiences that serve as a constant reminder of how wonderful life is.
My passion for discovery started in my childhood. Thanks to my dad, I could interact with the fascinating world of science (he's a microbiologist). He always let me play with petri dishes and test tubes, and encouraged I look at life through a microscope. Here I fell in love with discovering the intriguing aromas of a laboratory.
From there, I decided to study Chemical Engineering, a career with which allowed me to fulfill that need to learn, experiment and then create new products and projects. All of this prepared me for Ron Cihuatán.
The rum industry is the perfect medium where I have been able to enjoy the ideal mix of my different passions. There's nothing like mixing chemistry with the ability to create new flavors. Making rum is an opportunity to create sensations, feelings and even moments: a scent, a taste can make you relieve experiences and memories. People who love rum sure know what I'm talking about.
2.    Biggest achievement you personally feel you have accomplish for the rum industry.
The rum industry has filled me with many satisfactions, but the biggest one has been to produce a 100% Salvadoran rum. And we did it from scratch, with little experience, but so much passion. I feel proud that Ron Cihuatán has been recognized in international markets and, as a result, has become a source of pride for my country.
3.    What made you fall in love with rum and when did it happen?
When I tasted the rums obtained from the first casks that were filled to produce Ron Cihuatán. I still remember, how impressed I was. I could taste and even feel subtle and delicious aromas: all created naturally! This allowed me to discover a new world, that never ceases to amaze me.
4.    What is that thing that makes you want to continue in the rum industry?
The rum industry is very innovative. There are always challenges to overcome and things to learn. This keeps me driven.
The other thing that motivates me is the project of Ron Cihuatán itself. Since its beginnings, Ron Cihuatán has always been breaking paradigms, thanks in no small part to the passionate team behind the brand. In the end, people are the perfect ingredient in making a great rum. Being a part of this team makes me so proud.
5.    Favourite Drink + Recipe
Old Fashioned
2 oz. Ron Cihuatán 8 or 12 Years
Dashes cacao bitters
1 sugar cube
Orange peel
Splash of seltzer
6.    Where do you see the rum industry today and in the next 5 years?
The rum industry growing. We owe a lot of this to the ever growing list of industry magazines, blogs, trade shows and other industry events. They all make it easier for fans to discover smaller brands (like a rum from El Salvador!), plus new techniques of fermentation, distillation, aging and, therefore, new aromas and flavors. Rum is starting to be appreciated and enjoyed for its quality.
7.    Share some (2-3) of your mentors and how they have help you.
Definitely that Luis Ayala. Everyone who knows him can't help but admire his constant quest to understand and discover what happens inside an oak barrel. He also overflows with charisma and love for rum. He takes me back to my years as a chemist, and I am fascinated by how, thanks to chemistry, we can now make exquisite spirits. From Luis I have definitely learned to explore the world through my senses. Trying any food or drink has now become an experience.
Another one of my mentors is Juan Alfredo Pacas, our vice president. His enthusiasm and passion for the project of Ron Cihuatán is so contagious. He's truly the champion who has made us all get hooked on Ron Cihuatán. It is difficult not to want to give the best of oneself after talking to him. Juan Alfredo is the one who always reminds us of the impact that Ron Cihuatán will have for El Salvador.
8.    What 3-5 things do you have in your bucket list for the next 12 month?
I have so many things on my bucket list! I am currently working on the development of new rum formulas for the launch of a special edition rum. There's also the impending launch of Ron Cihuatán 15 Years! Both projects have tested my creativity and technique. I really think the final product will connect with those who taste them.
A key thing in this industry is INNOVATION. That's why I want to dedicate more time to research and read news about the rum industry. Never stop learning!
I also want to further develop my sense of smell and taste. That's why I'm looking into taking cooking classes. I have always been fascinated by gastronomy, and enjoy discovering the flavors of different cultures through food. It's all inspiration for new rums!
9.    How can people learn more about you? Website? Social Media Page?
You can see my work and different milestones for Ron Cihuatán
by following us on Instagram @roncihuatan or liking Ron Cihuatán on Facebook.