Rum connoisseur interview of the week: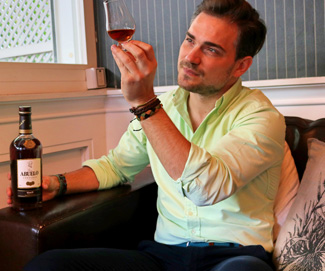 CRISTOBAL SROWSKI
Bartender, connoisseur, historian, Ambassador, and lover of fantastic rum!
1) Who is Cristobal Srowski?
Cristobal Srokowski was born in Poland and raised on the Spanish Coast (which is called "Costa Brava"). He began his professional career with flairtending and tiki cocktails in Lloret de Mar, a famous touristic city on the north Mediterranean coast. At just 19, he was managing the Lounge club on the beach in Malgrat de Mar, which is also on the Barcelona's Coast, and soon became part of the team of one of the oldest and best cocktail bars in Barcelona–Harry's Cocktail Bar (which happens to be recognized internationally as one of the World's best classic cocktail bars).
Meanwhile, Cristobal studied History and Philosophy at the Barcelona's University; the goal was to become a History Teacher! It is curious though, that he found himself teaching inside the cocktail and rum world.
During his time in this flagship classic cocktail bar, Cristobal won the Catalonia IBA cocktail championship twice, and in November 2012 became the champion of Spain, in the Federation of Spanish Barmans for the Long Drink category. This allowed him to travel to Italy, where he trained at the Training Center IBA (International Bartenders Association), by achieving the prestigious Elite JWC curse.
From 2012, Cristobal Srokowski was inducted into the large family Varela Hermanos SA as the Abuelo Rum Global Brand Ambassador, it is there that he directs the artistic and creative combination of exquisite drinks with the Varela family rum. From China to Europe and from there to Panama, Cristobal currently conducts his work by splitting his time among the 42 countries where the Abuelo Rum brand is present.
After all these years, Cristobal had the opportunity of meeting awarded Master Blenders and visiting rum distilleries to feed his curiosity and serve as an apprenticeship. The complex world of sugar cane spirits gave him an infinite universe of possibilities and his latest nomination as the Polish Rum Love Festiwal (Festival) Ambassador is the perfect stage to share the rum passion in his mother country.
2) What made you fall in love with rum and when did it happen?
It happened while I was working at the Harry's Cocktail Bar in Barcelona. I was amused by how infinite the rum world can be and its many categories, and I was amazed at how many possibilities and applications for this beautiful spirit there are. From sipping aged rums for cigars and chocolate pairings to spiced rum, long fermented rums, green Agricole rhum or overproof rums used for tiki cocktails: the combinations are endless.
3) The biggest achievement you personally feel you have accomplished for the rum industry.
Being the Ambassador for the first Rum festival in Poland it is a great honor (June 23-25, Wroclaw). I consider myself very lucky to have also the opportunity to travel and visit rum distilleries where I learn about so many different styles and productions. This allows me to share my fantastic experiences with bartenders, consumers, bloggers and experts. Defending the category is defending my own brand.
4) What is that thing that makes you want to continue in the rum industry?
Rum has many different profiles than other spirits. We can find the perfect rum for each consumer palates. This fact makes a simple rum tasting an adventure and a unique experience every time. So many different ways to produce rum and so many unique results. Even for someone who has been working many years in the industry, rum still offers new tastes or ways to drink it.
5) Favorite Drink + Recipe
My 3 favorite rum cocktails would be:

The perfect Daiquiri
– 60 ml Abuelo 7 years
– 30 ml Fresh lime juice
– 20 ml Sugar syrup 2:1
Abuelo Manhattan
– 60 ml Abuelo 12 years
– 30 ml Carpano Antica Formula vermouth
– 1 dash of chocolate bitter
– Pink Grapefruit twist
Mai Tai (I've changed a little bit the original recipe)
– 30 ml Dark Jamaican Rum
– 30 ml White Agricole Rhum
– 30 ml fresh lime juice
– 20 ml Dry Curaçao
– 15 ml orgeat syrup
– Mint spring as a garnish
6) Where do you see the rum industry today and in the next 5 years?
For the first time in the spirits History, the consumer finally has realized that the rum can be not only perfect for mixing. We called this moment "The third rum revolution" (The first was in the XVII century and the second was after the prohibition with the tiki culture). It means that right now the rum category is competing as a premium spirit against Whiskys and Cognacs. Seven years in the Caribbean is equal in terms of ageing to twenty-one in Scotland! The reason is simple: higher temperature and humidity. The consumer can buy extensively aged rums for an amazing price and he notices that. The premium rums are increasing the sales and every month we are attracting more consumers. However, I should add that as in every revolution you can find extreme poles. Not every rum is premium or has authenticity or high quality. That's why the consumer has to research and ask questions about the rum brand background.
7) Share some of your mentors and how they have influenced you.
I had the opportunity to meet many Master Blenders. All of them have shared with me their wisdom and rum love. Recently I've visited an amazing small distillery in Barbados. The owner, Richard Seale is one of the best Master Distillers that I've ever met and is a good friend of mine. He showed me a lot about his rum philosophy and I will be always grateful for his lessons. In a few weeks, I will visit Jamaica and the most extraordinary distillery in terms of fermentation and Jamaican authenticity: Hampden. The owners are the Harris family and they always been very generous with me. Of course, I've learned so much from the Italian Rum festival organizer Leonardo Pinto, also a good friend and one of the biggest rum experts I've ever met. But, I should say that the figure from who I'm learning every day and who inspires every single person who speaks with him is the third generation owner of our Panamanian distillery, Luis José Varela. He is some sort of middle point between a magician, scientist, and artist. It seems that one of our hobbies is to discuss every single detail regarding our product and its applications. This passion is the reason why Abuelo Rum is growing so fast and the consumers can find it in more than 42 countries.
8) What 3-5 things do you have on your bucket list for the next 12 month?
Visiting more rum distilleries for sure. Also, I'm helping with the organization of the first Polish Rum Festival that we will celebrate in the city of Wroclaw the June 24th and 25th. Currently, I'm living in Milano and helping my Italian partners with the masterclasses and Abuelo tours until the summer. Moreover, there are some rum masterclasses that I will perform in Spain and France. After the summer season I will come back to Panama due to that we are secretly working on new products (don't say to anybody, it's classified!)
9) Any final thoughts?
Rum is about having fun so that's exactly what I'm doing trying to share, the Caribbean atmosphere all around the world. I would suggest to all the readers to visit Panama. If I can, I will be more than happy to be there and show them our beautiful distillery.
10) How can people learn more about you? Website? Social Media Page?
Facebook: Cristobal Srokowski Ron Abuelo
Instagram: @csroko
e-mail: csrokowski@varelahermanos.com