Rum connoisseur interview of the week: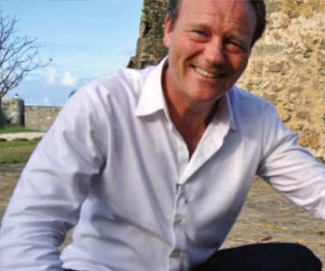 ALEXANDRE GABRIEL
Owner & Master Blender at MAISON FERRAND in France
 and WEST INDIES RUM DISTILLERY in Barbados
1) Who is Alexandre GABRIEL?
I am the owner and Master Blender of MAISON FERRAND in France and WEST INDIES RUM in Barbados. I am trained as a Master Blender in Cognac and have been running the venerable Maison Ferrand for 28 years.
2) What made you fall in love with rum and when did it happen?
Twenty-two years ago or so, as we were building our Cognac stock and as we were needing cash, I went to the Caribbean to see if some Rum Distillers would need our old empty Ferrand Cognac Barrels so I could sell them at a good price since there was a second-hand barrel glut in Cognac. I must admit that, at the time, I did not have a great image of rum. From what I had tasted, on many time, I always saw some aging minor, or major, defects that drove me away. I was not impressed and maybe a bit Cognac centered, where blending techniques are second to none. Plus, I probably was a young pot still snob back then! You know, we are distilling so slowly in Cognac in tiny copper stills.
When I arrived in the Caribbean, I met great distillers who were sharing the same dreams and the same aspirations as mine.
I tasted MANY rums straight from the still and I was blown away. I literally fell in love and never looked back. I knew that if we took these great, fresh rums and aged them with our know how we would make them sing. I was so sure. So, I called to team back in France and told them we would make rum. They really thought I had gone mad. My dream was to take rum to the level of the best whiskies and Cognacs. With an ingrained and deep sense of Terroir. With Incredible layers and flavors. It was all staring me in the face I could really taste it in my mind.
I sold some empty Cognac Barrels and bought some full rum barrels (which did not help for the cash!) and had them shipped to Maison Ferrand back in Cognac and we started experimenting with our special "elevage" aging technics. Plantation Rum was born.
3) The biggest achievement you personally feel you have accomplished for the rum industry.
It is team work at Plantation and Maison Ferrand. I know it sounds crazy but we are a community of passionate misfits working so hard because we feel we are on a mission. We are a small team buzzing with ideas and experiments doing a lot of historical and technical research for great taste. We never stop, we challenge each other all the time.
With Plantation rum, people tell us that we have been able to take rum to new heights. To make rum a great sippable rum with incredible depth and taste. If they are right, then this is something we are very proud of. Maybe this is why our Plantation rum makes a bigger impression than our actual size. When I tell people that until 2 weeks ago we were less than 40 people altogether, they are surprised.
4) What is that thing that makes you want to continue in the rum industry?
For me, I see our mission as preserving the true methods and diversity or rum. This is the real beauty of rum. It has incredible culture and complexity. A rum from Jamaica is SO different from a rum from Guyana or Barbados. We need to cherish this fascinating diversity. This is crucial. This is the real sense of Terroir that rum has and that we need to preserve. With few notable exceptions, rum has not been tamed or standardized. I know, some people are trying to do just that but it is our mission to fight this with our lives so rum retains all its richness and historical diversity. You can count on me and on the Plantation team for that. We are literally doing all it takes to do this. We are small and independent but we are putting everything on the line to do just that. This is why for instance, we purchased the ancient distillery West Indies Rum in Barbados in participation with Monymusk and Long Pond in Jamaica. This is a major commitment for us and we are doing it for the beauty of rum.
5) Favorite Drink + Recipe
O.F.T.D. Jungle Bird
1.5 oz OFTD
2 oz fresh pineapple juice
.75 oz Campari
.5 oz lime juice
.5 oz 1:1 Demerara syrup
Build, shake with ice, pour into glass and top with pellet ice.
Straw: 8″ black or floral paper
Glass: hurricane/zombie
Garnish with a Pineapple disc* (to line inside of the glass) and 2-3 pineapple fronds.
*pineapple disc: Cut whole pineapple (rind-on) into cross-sections on deli slicer to 1/8″ thickness. Will keep refrigerated in sealed containers for 48 hours.
Courtesy of Sean Frederick – Boston.
6) Where do you see the rum industry today and in the next 5 years?
Rum is at an inflection point. Some marketing guys are trying the "totally pure" marketing gig that was used 20 years ago If we are not careful, it can become an over marketed and standardized spirits like what happened with others. We won't let this happen. There is a new generation who understand this both as consumers and distillers and it is a great thing.
7) Share some of your mentors and how they have influenced you.
I owe a lot to a few mentors that have been very important to me. I started working with Cognac and then Rum at a young age (22 years old) and have been so fortunate to be mentored by few incredibly talented and good people. "Old wise men".  I guess it's fair to say that I have always been very passionate and maybe extreme (for better and worse!) but, luckily, a few great guys kind of took me under their wing early on. They saw and liked the mission.
My grandfather was an intense man of a few words. I grew up with him on the family farm. For him, wealth was in the land, period. I owe my great passion for agriculture to him. He taught my many things, how to graft a tree, how to make wine, how and when to plant, how to distil, how to milk a cow. I later realized that most of what I do is shaped by this vision of the world. Maison Ferrand in its structure is very much run like a late 19thcentury farm. We are not a company but a community on a mission sharing most of everything. I live on site and everything happens there. When Debbie and I got married she thought it was crazy, no private/work-life separation. The team and I are always with each other like on an old farm.
Also, I owe a lot to Laurie Barnard the master distiller and previous owner of Saint Lucia Distiller. He and I were like rum brothers, or kids exchanging football cards. He showed me the ins and outs of rum and opened many doors for me and I did the same for Cognac. Also, we shared the dream of working together as partners but, destiny saw it differently since he died from cancer a few years ago.
There are other people who have helped me and believed in me and It would take several pages to pay homage to them the way I should. I have been very lucky that way and plan to try to do the same for younger guys as I get older.
8) What 3-5 things do you have on your bucket list for the next 12 month?
Just 3-5?
– Take back West Indies Rum Distillery in Barbados to its old glorious time and make those small ancient pot stills sing again.
– Take Debbie (my wife) on a honeymoon. We have never been able to do so and have been married for 20 years. Don t tell her, I want it to be a surprise!
– Learn to play the guitar. I just started and it is hard!
– Continue to create one of a kind rums with people I love and respect like I did with the OFTD brothers.
– Finish writing our book on the history of Grande Champagne Cognac.
– Work out the way to use sheep to mow our vineyards in Cognac, so it is totally green.
9) Any final thoughts?
Thank You to all the rum fanatics. We are able to fulfill our dream for you and thanks to you. Unless the man upstairs calls me back too early I plan to do this for many more years. And in case he does, I hope I will see Laurie up-there. Something tells me that he is with a pot-sill and a few angels making great rum! From Saint Lucia to paradise, it is not such a long way. Cheers to you Laurie. We miss you a lot.
10) How can people learn more about you? Website? Social Media Page?
www.maisonferrand.com
www.plantationrum.com
@plantationrums