Rum Connoisseur
Interview of the Week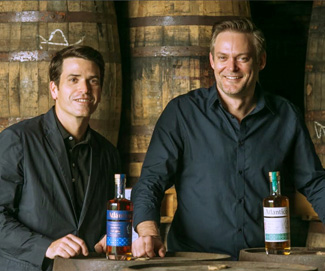 ALECO AZQUETA
Co-Founder of Atlantico Rum, a lifelong student of spirits, sugar cane, and a proud advocate for Nobel rum.
1) Who is Aleco Azqueta?
Aleco Azqueta is the Co-Founder of Atlantico Importing Company.  AIC produces award-winning rums from the Dominican Republic and is distributed in over twenty countries.  Prior to starting his own company Aleco worked for 10 years at Bacardi USA.  While at Bacardi, Aleco managed some of the world's most iconic brands including, Grey Goose Vodka and Dewar's Scotch.  Aleco graduated from Georgetown University and received his MBA from the University of Miami. He is married to Carolina and has three children (Aleco jr 11, Andres, 10, and Nina 5)
2) What made you fall in love with rum and when did it happen?
My family has been in the sugar business for over a century.  Initially, in Cuba and once they left in 1960 they began producing sugar in Florida, the Dominican Republic, and Venezuela. With my families history in sugar production and my experience in the beverage alcohol industry, all roads led to Atlantico. Because I have lived in many rum producing countries I have a great passion for the history and culture behind rum and I just want to help people appreciate rum as the world-class spirit that it is.
3) The biggest achievement you personally feel you have accomplished for the rum industry.
Hopefully, it's to get people thinking about rum in a different way.  For too long rum has been seen as a cheap spirit that needs to be mixed with Coke or overly fruity/sweet drinks. I believe with Atlantico we have successfully used social media and educational programs to help people understand what a beautiful and complex spirit Rum actually is.  Unlike other categories, there is not an established set of norms for Rum when it comes to aging, sourcing, production, provenance etc like in Scotch, Tequila, and Cognac for example.  As a result, it is important to educate people on what makes specific brands of rum unique.  For example, we have three expressions of Atlantico: Atlantico Platino is a 100% fresh cane juice rum that is aged for a year in American Whiskey Barrels and finished in Spanish Tempranillo barrels.  Both our Atlantico Reserva and Atlantico Gran Reserva expressions are made with 70% fresh cane juice and 30% molasses based distillates.  We then age them in our Solera in American Whiskey barrels with solera rums up to 15 years for Reserva and 25 years for Atlantico Gran Reserva.  Our Rums are aged and blended in the Dominican Republic with a completely vertically integrated production process.  I am very proud that we are 100% GMO-free. I am also very proud of the international accolades we have received such as being awarded Best in Show at both the Berlin and London Rum Festival as well as Best overall Brown Spirit at WSWA(Wine & Spirit Wholesalers Association).
4) What is that thing that makes you want to continue in the rum industry?
To quote Steve Jobs "Why join the Navy when you can be a Pirate"!
5) Favorite Drink + Recipe
Atlantico Platino: Classic Daiquiri:
2 ounces Atlantico Platino Rum
1 ounce plus one teaspoon fresh lime juice
1/2 ounce simple syrup
Atlantico Reserva: Rum Old Fashioned
1 cube sugar
2 or 3 dashes Angostura or orange bitters/ For a twist Fee Brothers Mole Bitters
2 or 3 ice cubes
2 ounces light rum

Garnishes:

Slice orange
Maraschino cherry

Atlantico Gran Reserva: On the Rocks
 One ice cube and an orange peel
6) Where do you see the rum industry today and in the next 5 years?
In Europe, it is already more evolved and people are consuming Rum on the rocks, neat, or in classic cocktails.  I believe this trend towards the premiumization of Rum will no doubt happen in the US over the next 5 years.  Rum is the second largest spirits category in the US after vodka.  It is delicious on its own, mixable, and usually, centers around fun occasions.  For example, with Atlantico, our tagline is "Passport to Paradise" connoting the moment many people feel when they sit down and have a Rum drink.  As people learn more about the category, brands, and marketers present the category in a more aspirational light the future is very bright for Rum.
7) Share some of your mentors and how they have helped you.
My Father is one of my mentors.  I can't imagine what he went through losing everything in Cuba as a result of the revolution but then rebuilding our family business in a new country.  He has definitely taught me the importance of being resilient in everything you do.  I also admire my Mother very much and the social work she does.  She has established educational foundations in the United States (https://www.newhopecharities.org/) and in the Dominican Republic (https://www.mircharities.org/)  It is so important to give back to the community. With Atlantico support both New Hope and MIR in any way we can. And finally, my wife Carolina who really is the glue that keeps everything together for our family.
8) What things do you have on your bucket list for the next 12 month?
We are really excited with the new package that we are introducing this year for Atlantico. It draws inspiration from the mosaic tiles which are a staple of Caribbean design and we believe are unlike any other rum packaging currently in the market.  My partner Brandon Lieb, who is the other Co-Founder of Atlantico, and I are working on some really special limited releases for Atlantico that taste incredible.  We will only be producing several hundred cases so I am sure they will be very sought after.
9) Any last words?
I know your newsletter goes out to the hardcore rummies so all I can say
is to keep doing the good work and help us spread the gospel of rum.
10) How can people learn more about you? Website? Social Media Page?
Yes please follow us on Instagram, FB, and Twitter. Our handle is @atlanticorum and we also just redesigned our website www.atlanticorum.com
web: atlanticorum.com
Facebook: facebook.com/atlanticorum
Twitter: @atlanticorum
Instagram: @atlanticorum