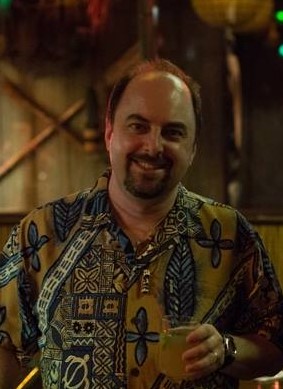 Paul Senft  
 Mastermind behind RumJourney.com / Writer for Got Rum? / Rum Speaker  
1) Who is Paul Senft?
Paul's exploration of Rums began by learning to craft Tiki cocktails for friends. As his rum collection grew he began his rum education by studying the different styles of rum in the world market. With the inception of RumJourney.com, he has travelled with his wife around the Caribbean, Central America, and United States visiting distilleries and learning about how each one creates their rums. On these journeys he has had the pleasure of learning from bartenders, brand ambassadors, and other enthusiasts from around the world; each providing their own unique point of view and adding another chapter to the modern story of rum. His quest for knowledge led to Paul's attendance at The Rum University where he has earned multiple certifications in many aspects of rum production and the rum industry.
Currently you can find Paul's monthly reviews in Got Rum? Magazine, as well as articles in other print and online media.  For Paul, Tiki and Rum go hand and hand and he hosts monthly seminars at Trader Vic's Atlanta.  He also hosts public and private seminars and rum tastings throughout the year.
2) Biggest achievement you personally feel you have accomplish for the rum industry.
As a reviewer and host for seminars and rum tastings, I believe my biggest achievement is helping guide/host people through the bounty of rum products out there.  A few years ago my wife and I had the honor of hosting our first rum cruise and that was absolute blast. We were able to take a group of strangers from around the world and introduce them to some of our favorite islands and visit distilleries from the large industrial outfits to the small family operations.  It was a wonderful experience that I look forward to doing again someday.
3) What made you fall in love with rum and when did it happen?
It started with exploring Tiki cocktails and the revelation that not all rums are created equal.  It was this knowledge that inspired me to dig and explore.  I believe that I fell in love with it when it became a constant learning experience.
4) What is that thing that makes you want to continue in the rum industry? ?
Right now we are seeing unprecedented growth in the rum industry with new distilleries producing rums around the world.  Consumer education is more important than ever as we explore this bevy of products.  It is this exploration and education that brought me to the industry and makes me want to continue in it.
5) Favorite Rum Drink + Recipe?  
Trader Vic's 1944 Mai Tai
Ingredients:
1 oz. Amber Martinique Rum
1 oz. Dark Jamaican Rum
1 oz. Fresh Lime Juice
1/2 oz. Orgeat
1/2 oz. Cointreau
Garnish with Mint and Spent Lime Half. (Fruit Stick – Orange, Pineapple, Cherry – Optional)
Preparation: Add all ingredients to a cocktail shaker, except the garnish. Shake and strain into a rocks glass filled with crushed ice. Garnish with spent lime, mint. You can also float some over proof dark rum (Lemonhart 151) on top of the cocktail.
6) Where do you see the rum industry today and in the next 5 years?
Today we have a new generation of drinkers who are moving away from the gateway products and exploring what the rum market truly has to offer.  With the rise of these new rum enthusiasts we are seeing a push for transparency concerning additives and age statements, as well as an overall desire to learn about what they are consuming and how best to use it in a cocktail.   I strongly believe Rum and Spirit festivals have a large role to play in helping educate the consumers about these subjects by not only allowing them to sample new products but also to provide seminars where they may receive valuable learning experiences.
Personally, one trend in particular that I am enjoying seeing is the use of year vintages.  We are currently seeing them in Caroni, Don Q, Foursquare, Hamilton, and Plantation rums, among others.  I believe this provides two opportunities: First, it grants the Master Blenders the freedom to create something new outside of their regular portfolio, and Second, it provides the consumers and enthusiasts products to get excited about that are worthy of tracking down.  This is especially the case when a really good vintage is identified.
7) Share some (2-3) of your mentors and how they have help you. 
When I was learning to hone my nosing and tasting skills, fellow enthusiasts, connoisseurs, and brand ambassadors shared their knowledge with me and helped me create the foundation to be successful at my craft today.  I will always be grateful to them and try to honor them by sharing my knowledge with the rum community.
I would have never have started down this path if it was not for the early and continued influence of Jeff "Beachbum" Berry whose works have challenged me to be a better researcher and writer. The world of Tiki, its culture, and influences are a huge part of my life and I have him to thank for inspiring me.  In a very similar way Victor Bergeron ("Trader Vic") has been a huge influence as I have continued to study and explore the rum and Tiki world.  His 1944 Book of food and drink helped pioneer the way the world looked at rum moving it from bottom shelf to something that needed to be in every bar.
However, without a doubt in the world of Rum, Luis and Margaret Ayala are my two greatest mentors.  They have helped raise my knowledge and understanding of Rum on every level.  It has been my great pleasure to work with them as a reviewer and writer for "Got Rum?" magazine and it is my wish to continue my journey with them for years to come.
7) What 3-5 things do you have in your bucket list for the next 12 months?
 Attend at least three Spirit Festivals this year.
 Continue to host seminars and tastings locally and internationally.
 Travel to California and visit some distilleries and Tiki establishments.
 Visit at least five distilleries.
 Enjoy life and live in the moment as much as possible.
8) Any last words? 
I am truly inspired by the works of fellow Rum writers like Josh Miller ofwww.inuakena.com, Matt Pietrek of www.cocktailwonk.com and Helena Tiare Olsen of www.amountainofcrushedice.com, as well as other folks in the Rum and Tiki community.  My site RumJourney.com was founded on the idea of sharing our exploration of the Rum World and the Caribbean.  I am thankful every day for the friendships that have formed over the years because of this.  It is my hope that it encourages others to start their own rum journeys and find as much enjoyment in the experience as we have.  In my opinion, some of the best Rum and Tiki experiences we can have are the ones we share with others.
8) How can people learn more about you? Website? Social Media Page? 
Twitter: @RumJourney
Facebook:  https://www.facebook.com/paul.e.senft